Filipino Nanny Services
Filipino Nannies are available in the Manchester area to take on shared care or sole-charge of your children throughout the day, helping with school runs, clothing, bathing and feeding.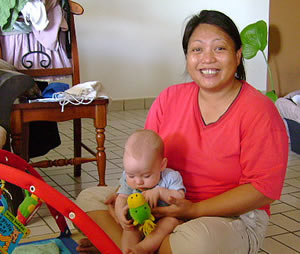 Your Filipino Nanny will typically have the following responsibilities:
The safety and care of your children
Stimulating the minds of your children through play activities and reading etc
Creating an atmosphere of well-being and respect where your children can develop into rounded individuals
Involvement in the coordination of your children's act ivies and social calendar to keep them mentally stimulated
Dressing, feeding and bathing your children
The duties of our Filipino nannies include the complete care of your children as well as keeping their clothes washed and ironed, tidying their bedrooms and play areas and bathing your children.
Filipino nannies can also prepare healthy meals suitable to your children and their age, whether they are babies, toddlers are at school.
Most Filipino nannies are quite flexible in their duties and will often volunteer to take on other domestic duties from time to time, such as cleaning the house and cooking for the family, but these are not considered the role of a nanny whose primary purpose is always the care of your children.
LIVE IN FILIPINO NANNIES
If you employ a live in Filipino nanny you should expect them to work around 10 hours per day, Monday to Friday, often with the option to do extra shifts in the evening for babysitting.
Accommodation, bills and food if usually provided by the employer as part of the working package.
DAILY FILIPINO NANNIES
A daily visiting Filipino nanny will typically work 8-10 hours per day, Monday to Friday and are not usually expected to do any extra hours for babysitting etc, but may still do this if arranged in advance.
PART TIME FILIPINO NANNIES AND WEEKEND FILIPINO NANNIES
Weekend Filipino nannies are in high demand for obvious reasons, typically working from Friday evening until Sunday evening.
To inquire about any of the above Filipino Nanny Services in the Manchester are please contact us.