Filipino Housekeeper Services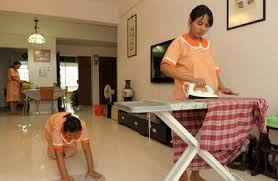 Many times, if a household can afford only one member of staff if will be a housekeeper.
Filipino housekeepers are highly regarded around the world as they offer dedication, loyalty and competence combined with common sense which are all essential attributes in a top class housekeeper.
A housekeeper can be employed as a live in or live out (daily), on a temporary or permanent basis, either working on a full time or part time basis.
Our Filipino Housekeeper duties and responsibilities may include, but are not limited to the following:
• Keep all rooms vacuumed, dusted, clean and tidy at all times
• Maintain the Families Laundry, Ironing and Dry Cleaning
• Care of fine china, Silver and crystal
• Change all Bed Linen, Towels etc
• Feed and Walk the dog daily
• Shop as requested or put away weekly groceries when delivered
• Cook Nutritional Family Meals
• Assist with preparation for dinner parties
• Flower arrangement
• Dealing with contractors
• Taking messages
• Running Daily Errands
Some households may require someone who can take on multiple roles withing the home, such as:
• Housekeeper/Nanny
In conjunction with keeping the house organised, the housekeeper can be available to step in and help with small children on nannies day off or when a full time Mum needs a break. Filipino housekeepers often work well in a household with older children to do the school run and provide an extra pair of hands at the end of the day.
• Housekeeper/Cook
We have many Filipino housekeepers who have high cooking standards who in addition to the usual housekeeping duties can provide nutritional, healthy family food, catering to all tastes including special diets as well as providing for functions and parties in the home.
Working Hours:
Live in: 10-12 hour days (with relevant breaks) – 5 and 5½ days a week.
Daily: 8-10 hours a day 5 days a week.
To inquire about employing a Filipino Housekeeper please contact us.