Filipino Carers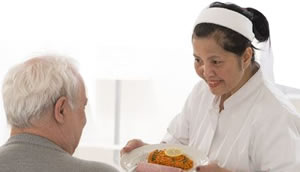 Is Your parent Living Alone?
Are you Caring for an elderly parent and need a few hours rest?
Don't want to move into residential care?
Our Filipino Carers can help your elderly relatives stay at home and enjoy a rich, full and independent life in a dignified manner.
Many households find our Filipino one to one personal care service ideal for their parents. Live in care can be the perfect solution as they will tend to feel happier and more secure in their own home, it is much easier for family, friends and neighbours to drop in, even for a few minutes.
Filipino Live-in Care
Live-in Care is when somebody comes to live with you in your own home to take care of your everyday needs on a one-to-one basis. This enables you our your relative to live in a familiar environment, which help alleviate stress and confusion often associated with living in an unfamiliar care home.
Our Filipino carers have experience of caring for people suffering with Dementia and Alzheimer's,  Multiple Sclerosis, Strokes,Thalidomide survivors and those who are paralised.
When Should You Consider Live-In Care?
There are many life situations where a live-in carer may be the best alternative for you or a loved one, and these are just some of the circumstances where a Filipino carer can help. Live-in care can be for any duration, short or long term or to cover emergency situations:
• To enable someone with varying health conditions to continue living at home with someone to look after them and any pets and prevent the distress and upheaval of moving to residential care
• For short-term needs such as convalescence, recovery after an accident, operation or illness
• For families who live away from their loved-ones but would like someone to look after them to provide care and/or companionship
• For people who are finding it difficult to cope with a partner or other family member who requires a lot of care
• Respite cover while a full time family (or other) carer takes a break, with the peace of mind knowing their loved one is in safe hands
• Emergency cover for a main carer due to illness, accident or some other unforeseen circumstance
• Providing a Holiday Care Assistant to accompany someone who needs care and support while going on holiday or staying with family/friends
• To give care and support to individuals and their families during end of life situations
What Are The Main Benefits of Live-In Care?
There are many benefits of having live-in care and these include:
• Cost effective one to one care
• Control of your day-to-day life
• Individual personal attention
• Peace of mind for you and your family knowing you are in safe hands
• The opportunity for friends and family to spend quality time with you, instead of doing your shopping or cleaning
• Companionship
• Pets can stay with you and be looked after too
• The option to entertain family and friends
• Adaptable and flexible care – your care, your way
What Does a Live-In Carer Do?
This can vary depending on the individual situation but in general a live-in carer normally provides full Personal Care and carries out general housekeeping tasks. The level of care will vary greatly depending on individual needs, which can range from general companionship and housekeeping to high dependency where intensive personal care is required.
One-to-One Care: A live-in carer works on a one-to one basis with you and your family or health professional and takes into account your preferences for medications, meals, eating times, daily routine, preferred activities etc. Should your needs change then the one-to-one care can be adapted at any time.
Personal Care: This is likely to include help with getting up, toileting, bathing, washing, dressing, overseeing medication and so on.
Companionship: Having someone living in your home gives you companionship when you want it, to keep you company for instance when you are watching TV, going for a walk, doing crosswords or other hobbies. Your carer will also be able to accompany you to appointments or on social outings.
Household Tasks: This would cover everyday things such as housework, laundry, cooking, shopping, caring for pets, dog walking and running errands. It could also be help with letter writing, phone calls on your behalf or social trips out to see friends or go on excursions.
Daily Filipino Carers
For clients who are ok to be left alone at night to sleep or have family to look after them during this time, who only need a carer during the day, a daily carer is ideal as they will benefit from all of the above without the need to accommodate an additional person in their home.
To inquire about any of the above Filipino Carer Services in the Manchester are please contact us.